25th August 2020
4 Things to Know Before Buying Metal Sheets: How to Identify a Good Quality Roof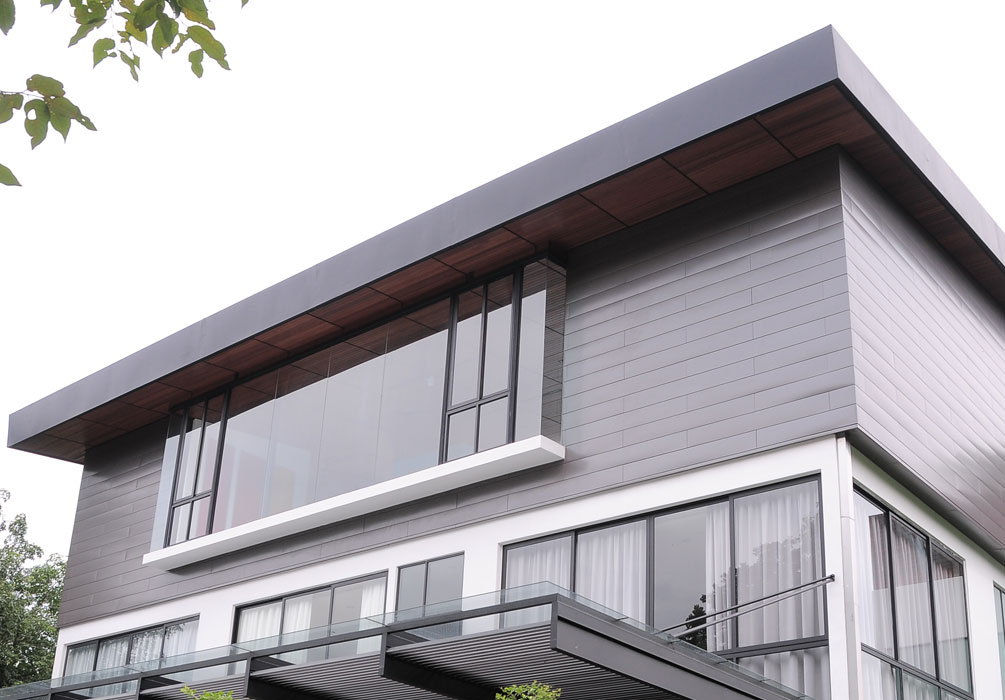 Get to know metal sheet, a popular roofing material for modern houses, and things you should consider before buying.
Besides concrete tiles, terracotta tiles, and ceramic tiles, the metal sheet is one of the most popular roofing materials for houses today because of its toughness, durability, and contemporary look. It comes in a wide range of attractive colours, it is easy to install, and it reflects heat, keeping the house cooler and saving energy. Today, I would like to share some facts about metal sheet roofs with those of you who are thinking of replacing your old roofs with metal sheets, or using metal sheets for your new house but are confused about what to do. So let's take a look at what homeowners should know before buying metal sheets.
What is Metal Sheet?
Metal sheet is roll formed and corrugated into profile  with a 55% aluminum-zinc alloy coating. Although it is popularly used as a roofing material for modern houses, it can be used for other applications, including wall paneling, awnings, and fencing. Not only does metal sheet offer good corrosion protection and heat ventilation, but it also is lightweight, leakproof, durable, and makes houses look more contemporary and attractive.
How to Choose the Right Metal Sheet
Metal sheets have a wide variety of profiles. You can choose a metal sheet for its appearance but you should also consider other factors such as roof structure slope and roof length. Another factor to consider is the installation, which is divided into two systems.
Bolt System requires a bolt to fix a metal sheet to a purlin or roof structure. This system is widely used because of its ease of installation such as metal sheet with standard profile 760.
Boltless System uses a bracket or connector for installing a metal sheet without bolting. This system reduces chances of leakage better than the bolt system such as metal sheet with Klip-Lok profile.
Four things that homeowners should know before buying a metal sheet:
1. Metal sheet thickness and application
Metal sheets have a variety of thickness available because the various gauge sizes are appropriate for different applications. Moreover, as thickness increases, the strength and soundproofing properties of a metal sheet also increase. However, sheet thickness directly affects design, structural load, and building strength. Choosing the right sheet thickness for its intended application and house structure will ensure proper completion of your construction project and will help you avoid unnecessary expenses such as maintenance due to using an incorrect sheet thickness. Examples of appropriate thickness and their applications are as follows:
Thickness 0.23-0.28 mm: Best for small roofing projects such as temporary housing.
Thickness 0.30-0.35 mm: Best for small roofing and walling projects with purlin spacing of not more than 1.2 meters, such as housing, extensions, garages, and awnings.
Thickness 0.35-0.40 mm: Best for medium roofing and general walling projects such as small or medium-sized factories.
Thickness 0.40-0.47 mm: Best for medium-to-large roofing projects such as medium-sized factories or buildings that require high-quality construction.
Thickness 0.47 mm or more: best for large roofing projects such as large-sized factories or buildings.
At this point, you have probably noticed that the thickness of metal sheet increases with the size of the building. However, in addition to the size of building, do not forget to consider corrugated or profile styles and purlin spacing as well.
2. Choosing a roof colour that matches the house style
 Besides thickness, metal sheets also have a variety of surfaces, such as heat-reflective surfaces, natural pattern surfaces, and pearlescent surfaces. They also come in a wide range of colours, both basic and special colours; people are often confused and indecisive as to which colour to choose. Now, let's briefly look at some examples of matching roof colours with house colours or styles.   
Modern: Smart and modern style with square shape and simple decoration. This house style features large windows that allow natural light to enter and is thus perfect with neutral or cool colours, such as Nuvo Blue from BlueScope Zacs. 
Tropical: Natural and warm style. This house style is usually built of wood, or wood and metal, and is perfect with earth colour tones, such as Natural Brown from BlueScope Zacs.
Minimal: Simple and clean with the less-but-more concept. This house style often highlights bright colour tones and is thus perfect with a white colour such as Asian White from BlueScope Zacs.   
Industrial: Raw, chic, and cool. This house style is often decorated with metal frames, bare cement, or dark-coloured walls, perfect with contrasting bright coloured roofs such as MG Yellow from BlueScope Zacs.
3. Are pre-painted metal sheets better than unpainted ones?
 Since pre-painted metal sheets must be aluminium-zinc coated and applied with surface modifier and special primer prior to coating with high-quality paint, they are highly rust/corrosion resistant and have excellent adhesion between the paint and metal. Pre-painted metal sheets have bright colourful colours and can be used to decorate houses in ways you never thought possible. They also have a longer life, and they are tougher and more durable compared to unpainted metal sheets.
4. Choose metal sheets with TIS certified
TIS or the Industrial Standards mark assures you that every metal sheet is certified having met standards. It is essential for homeowners to identify the mark before buying because if you buy a metal sheet without the TIS mark, you may run the risk of having a roof or wall of poor quality with poor strength and low durability. TIS mark assures you that every metal sheet has been examined to have the exact thickness as informed in the specification. They are also tested for impact and paint adhesion to ensure quality, strength, durability, and long life as well as preventing paint from peeling off, fading, and scratching.
BlueScope Zacs metal sheets are an excellent choice for roof projects because they are the first TIS-certified metal sheets in Thailand. You can rest assured that BlueScope Zacs metal sheets offer strength, durability, and safety. They are manufactured from high-quality materials with heat reflective technology, guaranteeing to keep heat out and to prevent fading and leaks. Most importantly, BlueScope Zacs is the first brand that has received TIS 2753-2016 (pre-painted metal sheet). If you are looking for a good quality bright-coloured metal sheet roof, BlueScope Zacs is your choice.
We hope that it is clear at this point that if you are planning to replace your roof or are building a house and want a beautiful, strong, durable, and long-life metal sheet roof for your house style, aside from its colour, you should carefully check other features, including thickness and coating material. Moreover, you should choose metal sheets with the TIS mark to ensure that they are of good quality worth every baht you spend. 
Thanks to https://home.kapook.com/view219087.html for the information.